Vacation Bible School (VBS)
2021 Vacation Bible School
Information will be available in Spring 2021.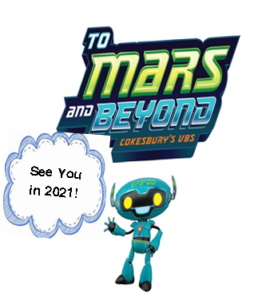 Unfortunately, we were unable to take our Vacation Bible School journey "To Mars and Beyond" this summer.
Due to the current status of this pandemic, we felt the safest option for all those young and old, will be to stay right
here on Planet Earth. However, the trip isn't cancelled, just postponed.
We look forward to traveling to "Mars and Beyond" next summer 2021. The adventure will be out of this world

!

We look forward to seeing so c
ontinue to stay
safe and healthy!
If you have any questions, please get with Kari Roth, 2020 VBS Director.