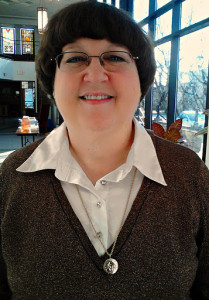 Organist – Director of Choirs
Sarah believes music is her calling. She has spent her life, teaching music, singing in choirs, directing choirs and playing the organ for worship.
Sarah exclaims that her wonderful husband, Dan, and her "fur child," Makism, (a Miniature Schnauzer) are very supportive of her calling to music.
Both Sarah and Dan have been members since 1980. Musical activities at Trinity:
Gather and Sing adult choir which sings two times a month at the 10:15 service.

Children are encouraged to sing with their classmates at one service a month.

Choir chimes are offered to 2nd – 8th grade Sunday school classes.

Special music is featured during the summer months, with members of Trinity playing or singing as well as non-members and invited guest musicians.