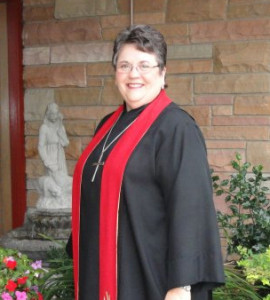 Rev. Jane I. Hillman
Grew up in Central Illinois
BS in Education from University of Illinois
Taught Amish Jr. High youth in the public school in Arthur Illinois for 3 years
Master of Divinity from Eden Theological Seminary, Webster Grove, Missouri
Ordained in 1986
Served churches in Northern Indiana, Southern Illinois and Northern Ohio
Now in Jasper Indiana, since March 2013
The roots of my faith: As one of five children living in rural Illinois, the seeds of faith were planted by my parents. In the church I learned about trust, forgiveness and the love of neighbor. As a teacher in a one-room school house in an Amish community, my eyes were opened to the richness of diversity. My growing involvement with the United Church of Christ continued to enrich my faith. I celebrate the tradition and heritage of the United Church of Christ, while eagerly awaiting the vision of a still speaking God.
My faith calls me into relationship with all persons built upon mutual trust and respect. I have an open mind, a caring heart and a listening ear. As pastor, it is a joy to celebrate the birth, baptism and confirmation of a child or bless a marriage or new home. My deep compassion leads me to pray with families at times of illness and grieve with others as loved ones come to know the blessing of eternal life.
I have a passion for preaching and teaching. I find joy in leading creative worship that has at its heart a faith-shaping message. Preaching in dialogue with those in the pew feeds both preacher and listener;
I am always both teacher and student. I love to plant seeds and watch faith grow and be utilized in new church ministries.
I am an administrator at heart. My organizational style allows me to do a multitude of tasks in a short span of time. I am a self-starter and pay a great deal of attention to details. The process used to make a decision is just as important to me as the actual decision; I look for healthy ways to work together. I am a leader who looks for the best in people and constantly draws upon their often hidden talents..
Children, in particular, quickly discover that my love is genuine and my playfulness can be contagious even for adults. My spirit lights up when children and youth are welcomed into God's house and at God's table. All children, under my care, know that their pastor and church share their moments of joy and tears.
Call Pastor Jane if…
Creative & meaningful worship is sought.

You believe children & youth are the church of TODAY and wish to teach them God's love!

You desire pastoral presence & prayer during troubled times and celebrations.

The call to do God's ministry is a small spark waiting to be released through the giving of mission dollars, time & talents.

There is a need for shared leadership, which can, by the power of God's grace, transform lives.
———————————————————————————————————————————————————————————-