Audra resides in Jasper with her husband, Brandon, and their two boys, Parker and Nolan. She is a First Grade Teacher at Fifth Street Elementary School. When not busy with her family or working with the youth and children of Jasper, Audra enjoys being outside gardening and planting flowers, spending time with friends and reading.
Audra serves as the Youth Ministry Leader of Trinity UCC because it is important to her to make a difference. She hopes to be a role model to the youth inspiring them to give of themselves in service and to live a life of faith.
———————————————————————————————————————————————————————————-
My name is Mickie Emmons and I am so grateful for the opportunity to serve your church community as Office Administrator. My husband, Alex, and I are blest with 5 children and 12 wonderful grandchildren (seven granddaughters and five grandsons). We have lived in Jasper for 25 years.
You can contact the church office or give her an email at

triniyucc

@psci.net
———————————————————————————————————————————————————————————-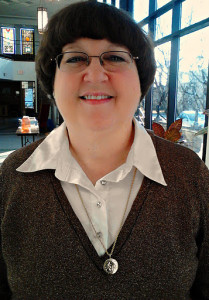 Organist – Director of Choirs
Sarah believes music is her calling. She has spent her life, teaching music, singing in choirs, directing choirs and playing the organ for worship.
Sarah exclaims, that her wonderful husband, Dan and her "fur child", Makism
(a Miniature Schnauzer) are very supportive of her calling to music.
Both Sarah and Dan have been members since 1980.
Music activities at Trinity
Gather and Sing adult choir which sings two times a month at the 10:15 service.

Children are encouraged to sing with their classmates at one service a month.

Choir chimes are offered to 2nd – 8th grade Sunday school classes.

Special music is featured during the summer months, with members of Trinity playing or singing as well as non-members and invited guest musicians.
———————————————————————————————————————————————————————————-